---
Introducing the First Bifacial Insulated Solar Sunrooms, Greenhouses, and Skylights.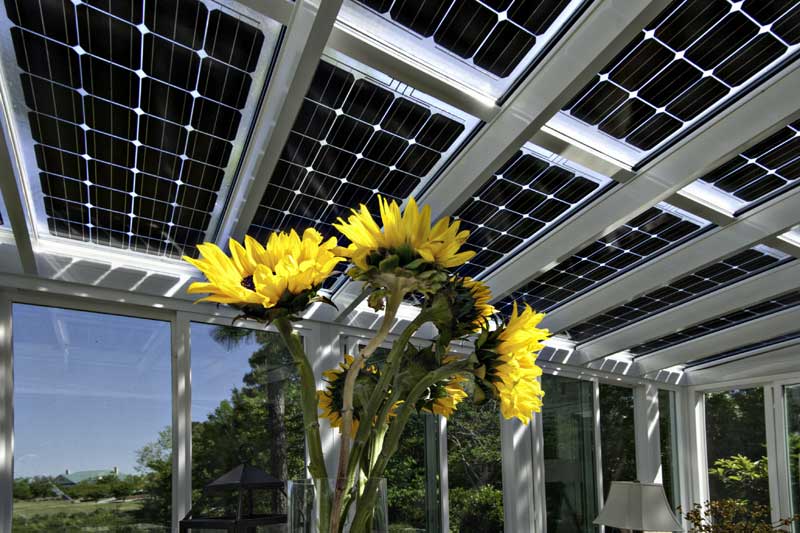 This recent install was completed by Solar Power Sunrooms for a local home owner in Wilmington NC . There are 16 Insulated Prism Bifacial Panels for a 3.2 Kilowatt system.
---
Make your new home addition something special.
Florian's new product line has been changing the way people look at solar. With projects going up all around the country people are starting to understand Florian's very unique approach towards solar power. Our view of solar power is somewhat different than most. The majority of people in the solar industry take the "cost per watt" point of view, which says "cheaper is better". In contrast, Florian looks to craft a piece of art adding value to your home and also saving you money in the long run. Florian is now "a dual purpose home addition". Sure, you may feel the sticker shock at first, but once you take in account all of the Federal and possible local rebates the solar equipment is often a free upgrade. These incentives not only help the customer with costly state of the art solar equipment, but can also knock a chunk off the price off the entire project, design, materials, site work and installation!
Remember, zoning and permitting can be difficult with traditional solar arrays. What is a "solar rack"? Where on a property should they be located? Many building departments don't have clear cut answers to these questions (See related article here). Who wants to see an ugly ground mount array in their neighbor's back yard? Now these backyard eyesores can be replaced with functional, beautiful greenhouses and sunroom additions. Florian's award winning solar home additions are breathtaking and impressive, which is unusual considering most people are of the opinion that solar is often ugly. The solar panels offer a unique look and added shading, which are a welcomed addition to any home or architecture.
---
Taxes: Florian's Solar Products qualify for the solar energy investment tax credit (ITC) - The tax credit is equal to 30% of the price of products outlined in the solar plan. Not to mention state & local solar incentives possibly available. Some parts of country have huge solar incentives so good you may get the room as much as 75% off the cost of the room.
Power Bill: Reduce or eliminate your power bill. Solar power is most abundant when utility company power is most expensive. "Peak-Shave" – a solar power system which knocks out 50% of usage, can reduce an electric bill by 65%.
Living Space: Allow your imagination to soar in ways you never thought possible. Whether you desire your new addition to be a living room, solarium, family spot, dining area, or personal hideaway, our systems beauty is unique to the solar market. With exacting specifications, your space is built to the highest standards in the industry. Even with its extremely upscale look and efficiency.
Re Sale Value: Add beauty and value to your home -120% Value of Dollars spent. (Consult your realtor for specifics)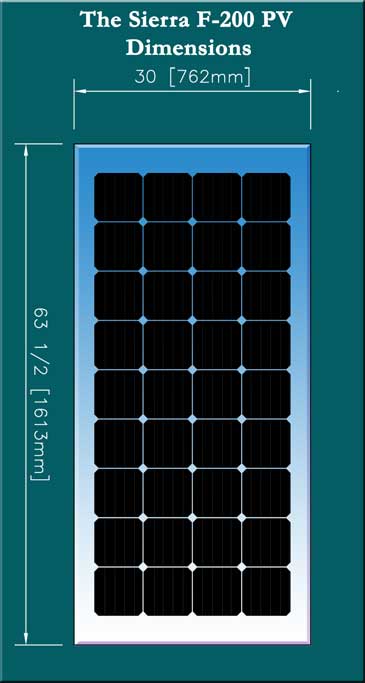 Introducing The Sierra® F-200
Photovoltaic Module
The first Insulated frameless bifacial module
designed to be integrated within Florian's
proprietary framing systems. The Sierra PV
module will be used within our exclusive line
of Solariums, Greenhouses, Skylights and
Conservatories. Adding living space to your
home and cutting your power bill what better
use of space could there be.

Click here for Panel Specs
Our superior system offers the following:


Added module efficiency; since the module will now be in a controlled temperature environment, our early estimates show a 15% increase in power production.


Pre Engineered to meet all load requirements. Each enclosure sold is designed for its specific region.


We use only thick heavy duty extruded Aluminum. Strong enough for any application.


CRF Rating -We lead the industry. What is CRF? One of the most important ratings to look for with your glass enclosure, CRF Stands for Condensation Resistance Factor. Florian leads the industry with an unbeatable rating of 65 in our frame (backed by laboratory testing). This will help you reduce energy costs and stop condensation from destroying your room.
The only sunroom to offer a tamperproof nylon clip system, which gives the framing unbeatable energy efficiency for maximum comfort. Allows even pressure between frame, gasket, & glass. No screws to strip. Most manufacturers start with reasonably well-insulated designs, and then put their units together with metal screws or bolts! Each of these hundreds of fasteners conduct heat and cold right through the so-called thermally broken frame.


Weep system built into each enclosure with a pre slopped sill.


Optional Ridge Vent System to create airflow throughout the enclosure.


Heavy-duty 5-fin E.P.D.M rubber gasketing around each pane of glass. Some manufacturers still use thin window gasketing from years ago.


300 standard sizes available.


Standard colors come in Bronze or White baked on enamel. Also available are anodized and custom colors.


A wide variety of accessories ranging from cresting & finals, sliding doors, commercial doors, sliding windows, and awning windows.


Glass is insulated with Super Spacer Structural foam systems the environmental choice for high-performance, durable, warm edge insulating. Less conductive spacer provides optimized energy savings. This spacer is also energy star rated.
Why use our solar panel click to enlarge chart
---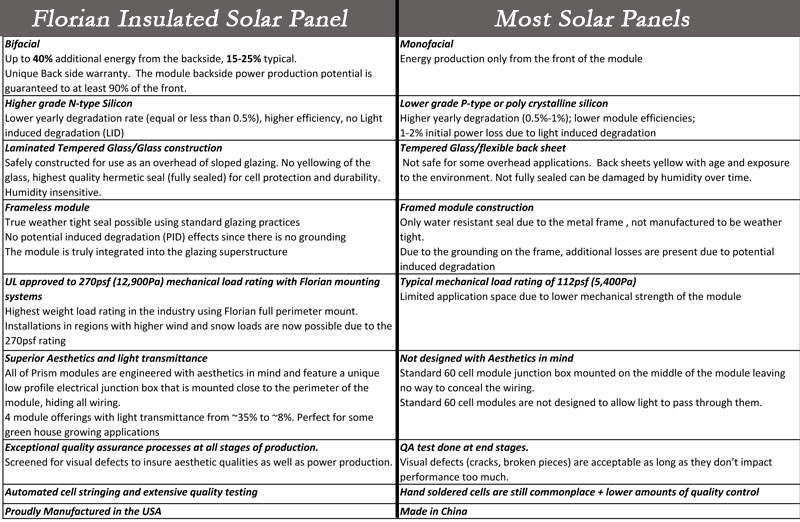 We qualify for the solar energy investment tax credit
Florian's Solar Structures qualify for the solar energy investment tax credit (ITC). The tax credit is equal to 30% of the price of products outlined in the solar plan. Not to mention state & local solar incentives possibly available. More information on this available at this Website: http://www.dsireusa.org/
The Solar Energy Industries Association has published a three-page document that provides answers to frequently asked questions regarding the federal tax credits for solar energy.
*Florian's Exclusive Nylon Clip Assembly
The Stronger, Longer Lasting, More Efficient Difference!
Non-metal, non-conductive design means heatand cold remains "uninvited". Unlike our competitors, Sierra Rooms are never fastened with heat and cold-conductive steel screws and bolts. Florian's Thermal Protection System® secures the glazing with nylon fasteners that not only preserve the thermal integrity of your Sierra, but are actually 30% stronger. In fact, each nylon fastener has a pullstrength rating of 300 lbs. This translates to energy efficiency 200% better than any other system on the market. They assemble faster, while providing even pressure between the frame, gasket and glass. Assured comfort, lasting beauty, higher efficiency, plus a lower energy bill –– it all adds up to the system that is clearly the very finest.
SKYLIGHT SYSTEM
Introducing the first Insulated Glass
Bi-Facial Solar skylight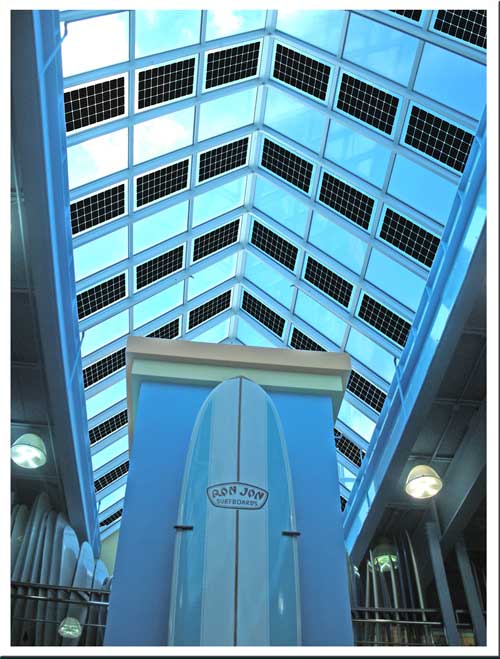 THE GENEVA SYSTEM
Introducing the first Insulated Glass
Bi-Facial Solar Greenhouse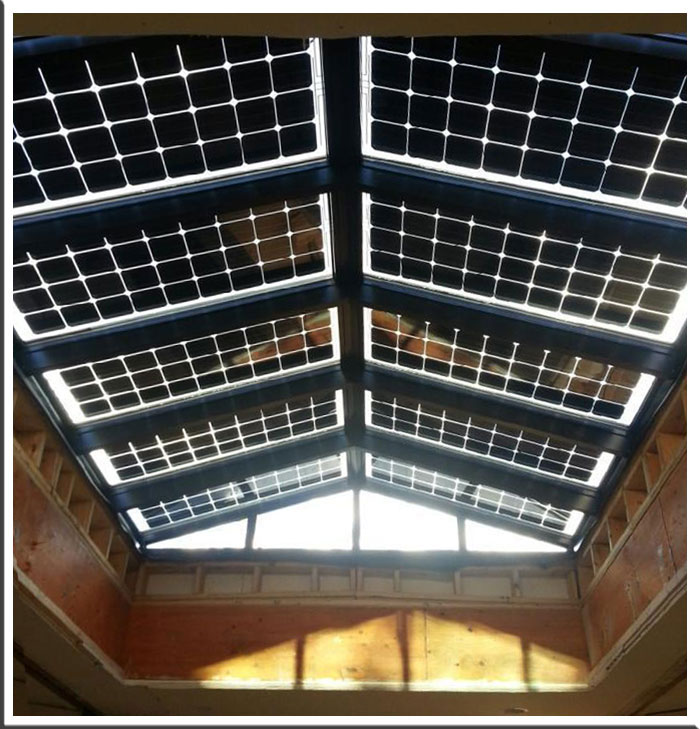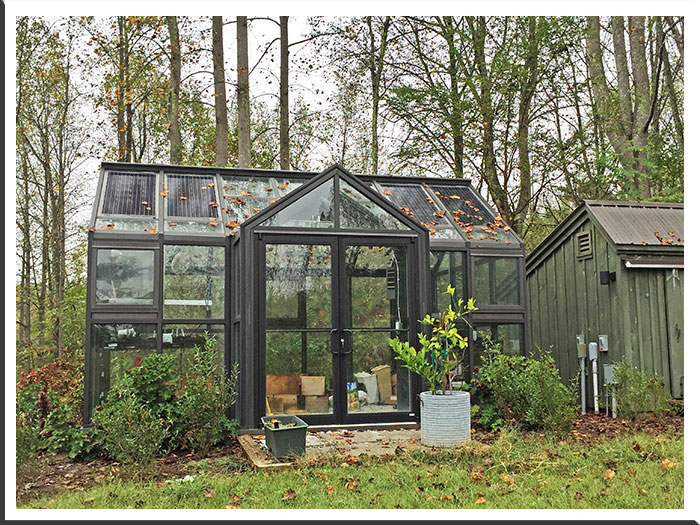 Solar Greenhouses are the first step toward total
sustainability. Now you can grow your plants in a
room generating its own power.
Why Enclose Your Bi-Facial Solar Modules in Glass
The glass in the front wall and gables creates the perfect amount of back face light. The back face light will utilize the panels underside to receive the proper sunlight to work at maximum capacity. The Glass walls also make the solar structure possible to stand adding structural stability. Conventional walls will be more expensive and block the needed sunlight which will cause limited power production from the backside of the bifacial module. The Florian enclosure also adds an additional use as a possible passive solar collector that can move heat throughout your home.
The Benefits to Home or Business
* Quality of Life - A feeling of open airiness within your space.
* Added Living Space - For a variety of uses; grilling, sitting, eating, shading, etc.
* Ease of Construction - Less time to build, economically cheaper then conventional construction. Designed & engineered for you and your location.
* Quality - Using only the highest quality aluminum & E.P.D.M gasketing. Long lasting and made to endure the seasons.
* Style - Designed to be aesthetically pleasing to your home. With endless possibilities, we also offer decorative accessories, columns, caps, and colors to add your own personal touch.
* Natural Light - Bifacial Solar Canopy allows 35% natural light transmission.
---
More Than Just Racking
This is more than just a mill finished racking system (standard to most solar panel installation). Our design will add an area for your family or business to enjoy year-round. This not only adds outdoor living space but is also a decorative edifice for bifacial solar panel housing. Our system creates an unlimited amount of additional uses for solar panels.
Florian's Goals
We hope to make solar panels more popular by adding more options to the consumer market. In addition to solving problems that some may find with Architectural Review Boards, space issues, roof angles, etc. You now have options to place panels not just on your roof but in your backyard, over your deck, in the driveway, as a skylight, or over a walkway, etc. We want to make solar panels as common place as a deck on a home. We feel this can be done by making them more aesthetically pleasing with more uses and applications.
Click photo's to enlarge:
Project By

Solar Powered Sunrooms

16 Insulated Prism Bifacial Panels for a 3.2 Kilowatt system Designed for Home Owner Wilmington, NC